Tenerife in legends
The Dark Ocean
A dangerous Ocean full of monsters.
The Atlantis
The lost continent, the lost civilization.
The Garden of Hesperides
The garden full of Golden apples.
The Elysian Fields
At the end of the know world.
The Ghost island of Borondón
The canaries are seven islands, but one more is still searched.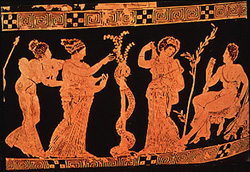 Herakles in Garden of Hesperides